Circumcision of our Lord and Savior Jesus Christ, St. Basil Day, Civil New Year......
Jan 1, 2016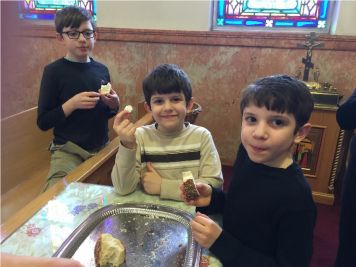 Today we celebrated the Feast of St. Basil, The Circumcision of our Lord and Savior Jesus Christ and the Civil New Year! May the Lord bless each of you with the gift of His perfect peace in the new year, and a sense of His presence in your heart every day.
Following the Divine Liturgy, a Vasilopita, also called St. Basil's Bread, was blessed by Father Igor and everyone in church was treated to a portion of the bread. Michael Vlachos, who donated the bread, explained that a coin was placed in the bread before baking and the one who was received that particular slice would be especially fortunate in the coming year. A Greek tradition, the bread is baked in honor of St. Basil and the wonderful act of charity by the saint to the poor.
Everyone stayed and enjoyed the delicious treat supplied by Michael. We were truly blessed by the fellowship that surrounded us all. The coin was in the slice that young Christopher Kary received. May God's blessings be upon Christopher, Michael, Father Igor and everyone who attended this very special and spiritually rich service.