Fifth Anniversary of Archbishop Michael's Consecration to the Holy Episcopacy.....
May 12, 2015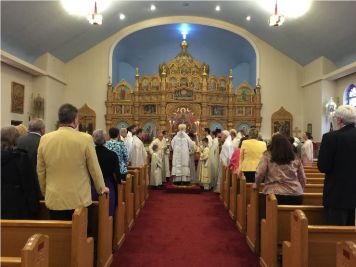 Saturday, May 9 we were honored to celebrate the fifth anniversary of His Eminence, Archbishop Michael's consecration to the Holy Episcopacy here at St. John's. A Hierarchical Divine Liturgy of Thanksgiving started at 9:00 a.m. A choir consisting of pastors in the diocese was led skillfully by Very Reverend Stephen Evanina from Holy Assumption Church in Clifton. Their joyous voices rang out in beauty and spiritual passion. His Eminence considers growing the church one of his important goals. He has been instrumental in revitalizing parishes throughout his diocese and is respected and loved by all who know him.
Following divine liturgy, coffee and treats were available in the church hall and a banquet luncheon was held at The Brownstone restaurant in Paterson. Pictures of the event are in the Photo Gallery.
May the Father, and the Son, and the Holy Spirit, the all-holy, consubstantial, and life-giving Trinity, bless you and grant you Many Years!