Thanksgiving at St. John's........
Nov 17, 2022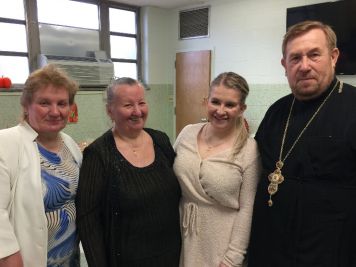 On Sunday, November 13, St. John's friends and families gathered in the church hall for a Thanksgiving meal organized by Mat. Lana. All the usual Thanksgiving goodies were there and more. Food donations were brought in by parishioners and friends and joined the wonderful dishes already prepared by Mat. Lana and her family.
Fr. Maryan blessed all the food and drink and a delectable feast was had by all who attended. Following the delicious meal, we enjoyed a raffle for gifts donated by many of the parishioners. Many thanks to all who helped at this wonderful event in any way, including setting up the tables, donating the food and the gifts and later cleaning up.
It is pleasant and heartwarming to be with all our friends and families sharing great food and good conversation and working together. May God grant all of you many years! "O magnify the Lord with me, and let us exalt His name together!" (Ps 34:3)