"I believe in Christ like I believe in the sun, not just because I see it, but because by it I can see everything else. -C.S. Lewis
---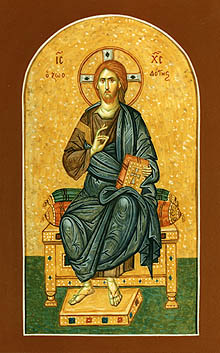 All people, young and old, rise up and come together at a time of trouble, note our response to the appalling 9/11 attacks. They need a cause to bring them to action. The defining worth of that cause is what we as Orthodox Christians need to determine. Our faith should be the utmost factor in that determination. With that in mind, what greater cause can we have than to pray for those who are suffering for their faith? We, both young and old, can no longer sit comfortably in our homes and hide from the events that confront Christians that suffer throughout the world because of their faith.
On the evening before New Year's Day, over 900 people filled a Coptic church in Egypt to celebrate the Holy Day. Upon leaving the service, a bomb exploded outside the church killing 21 and injuring over 100 Coptic Orthodox Christians. Today the news services are covering extensively the rioting occurring in Egypt, now a very troubled area of the world. There is wide speculation on how all of this will finally end. How will all this discord affect the Christians in Egypt who bravely continue worshipping our Lord and Savior Jesus Christ? Indeed, how will Christians anywhere that are being punished for serving our Lord and Savior Jesus Christ be affected by increasing discord.
We, here in these great United States of America, are faced with persecutions of our own. It is not difficult to come upon the assaults on our young people with unending and continuing battering on their personal thinking from various sources. Their interest centers on tv, vocal and movie personalities whose reputations and antics become more and more outrageous. Video games and movies are more and more horrendous and the norm now is how to get a video on the internet to show the world your bizarre nature. How can we allow our young people to follow and imitate these base creatures?
If you have children or in a position to influence young people, it is vital for you to bring their attention to the matters that are important to their future. Be aware of their friends and the interests that draw their attention. It is not impossible that at some point in their lives, they may have to make a decision that could affect them physically, morally and/or spiritually forever.
Whatever excuse we have for not attending church and bringing our children and young people can only be judged by our Lord. How will He judge our behavior when He sees these suffering Christians throughout the world continue to attend services. How will He, Who sees all and knows all, judge our choices in living our lives? Perhaps we need to remember the prayer by St. Nikoai of Ochrid who stated: Bless my enemies, O Lord. Even I bless them and do not curse them Enemies have driven me into Thy embrace more than friends have.
May "Our Lady of Light" the Virgin Mary who was seen by thousands in Zeitun, Cairo, Egypt protect, under her veil, all the suffering Christians who are being persecuted for their faith. You can read about the appearance of the Virgin Mary on April 2, 1968 here.
---
A few days after New Year's, I needed to get a birthday card for a friend. Walking into the card shop I was in awe at the haste exhibited by the swift removal of all the Christmas and New Year's paraphernalia. In their place were bright hearts and stuffed animals, all anticipating the next wave of celebration for the upcoming "Valentine's Day." How fast we are to discard the joys and memories of the very recent past to the anticipation of the next event. Of course, this is a business and their survival is probably hinged on the speedy renewal of goods and products to entice the consumer. But, how many of us also put aside all our recently fulfilled fond memories and quickly needed to just get "on with life."
In spite of the many attempts to steer our focus away from the fact that Christmas is a religious holy day, reminders were evident all around us about the historical event that occurred so long ago in a little village so far away. Peace on earth, good will toward men. That became a mantra in December even though neither is true.
We need only to be reminded of the deadly attack in Egypt on December 31 where 21 worshippers were killed and the injured has now reached 100. Articles by the media report that nearly 1,000 Christians were attending the service at that time. What drives these devoted Christians to attend services in an area that is openly hostile to them? How can we experience that same devotion here, where we can safely and without fear worship openly in our own churches which are empty. I pray that we can fill our churches even in peaceful times without the strife and fear that those worshippers in Egypt undoubtedly experience. Perhaps those worshipers follow the words expressed by the prayer of St. Nikolai of Ochrid as follows:
Bless my enemies, O Lord. Even I bless them and do not curse them Enemies have driven me into Thy embrace more than friends have. Friends have bound me to earth, enemies have loosed me from earth and have demolished all my aspirations in the world. Enemies have made me a stranger in worldly realms and an extraneous inhabitant of the world. Just as a hunted animal finds safer shelter than an unhunted animal does, so have I, persecuted by enemies, found the safest sanctuary, having ensconced myself beneath Thy tabernacle, where neither friends nor enemies can slay my soul. Bless my enemies, O Lord. Even I bless them and do not curse them. …. A slave curses enemies, for he does not understand. But a son blesses them, for he understands. For a son knows that his enemies cannot touch his life. Therefore he freely steps among them and prays to God for them. Bless my enemies, O Lord, even I bless them and do not curse them. Amen
But I digress, and getting back to the store, I successfully found and purchased the right card; and, leaving the store, I glanced around and promised I would return to find the right cards to express my love to my family members - when the time is right.
---
From the Bible:
The devil and his angels explore us individually, looking for our weaknesses. The enemy offers appealing visions to our eyes, music to our ears, to each of our senses setting forth whatever might tempt us to sin. He arouses our tongues to speak evil about others, and urges our hands to injure them. He sets forth profits to be earned by shady and immoral means, and holds out earthly honors and false values to be preferred to heavenly ones. When he is unable to tempt us, he brings forth a threat of persecution so that fear may cause us to betray the faith. Thus we must always be alert for his many-faceted attacks, ready to resist him at every turn.
Therefore humble yourselves under the mighty hand of God, that He may exalt you in due time, casting All your care upon Him, for He cares for you. Be sober, be vigilant; because your adversary the devil walks about like a roaring lion, seeking whom he may devour. Resist him, steadfast in the faith, knowing that the same sufferings are experienced by your brotherhood in the world. But may the God of all grace, who called us to His eternal glory by Christ Jesus, after you have suffered a while, perfect, establish, strengthen, and settle you. To Him be the glory and the dominion forever and ever. Amen. (1 Peter 5:6-11)
---
A man asked God, "Why is there so much suffering in the world?
Why don't You send help?"
God answered, "I did. I sent you!"