Gramata Awarded Nicholas and Peggy........
Nov 21, 2019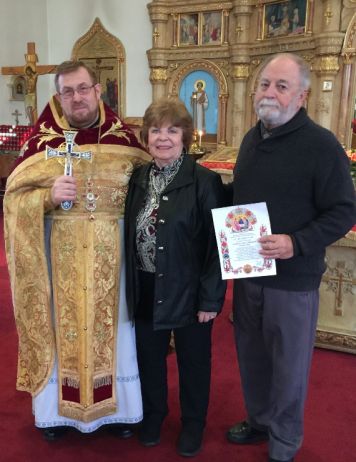 On November 3rd a molieben was served in church following Divine Liturgy for Peggy and Nicholas Kovalycsik who celebrated their 50th Wedding Anniversary on November 8. Peggy and Nick are long time treasured parishioners here at St. John's and the devotion and affection for our church that they consistently exhibit is an inspiration to all of us. Nick served for decades as a Trustee on the Board of Trustees and served as President of that Board for several terms. He is currently our Cemetery Secretary and has held that post for many many years. He is always there to trim bushes, clean up messes, and diligently work at any job that needs to be done and he sings in the choir at all services. Peggy, who is President of our Mother's Club, is always present helping at various events held at St. John's and is a tireless worker at our bread baking sessions. Currently she continually works at making sure coffee hour is flawless each and every Sunday. Father Maryan's wonderful tribute to Nick and Peggy expressed his appreciation for their example of leadership, energy and generosity to St. John's and to Orthodoxy.
On Sunday, November 17 Peggy and Nick were presented a Gramata signed by His Eminence, Archbishop Michael that was: "…in Recognition of their faithful and tireless labors at St. John the Baptist Church in Passaic, New Jersey and their kind and generous support of the Diocese, presented on November 8, 2019 The Feast of the Angels and their 50th Wedding Anniversary." We here at St. John's thank you both for your service, leadership and devotion to our church and to Orthodoxy and especially for your love and friendship. May God grant you both many, many blessed years. Pictures are in the Photo Gallery.