News from St. John's........
Jun 27, 2015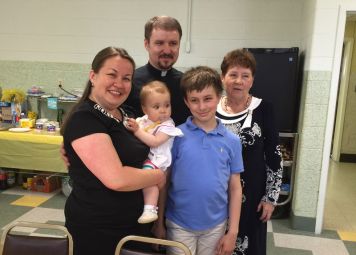 June has been a busy month at St. John's. It started on June 7 when we celebrated Sofia Kseniuk's first birthday. Although her birthday actually fell during the week, Mat. Anna and Fr. Igor hosted a luncheon on June 7 following Divine Liturgy. For desert we all enjoyed a delicious birthday cake. Our 90th Anniversary was celebrated on June 14 and everyone received a pen with the colors of the flag to remember that it was Flag Day. The day started with a Hierarchical Divine Liturgy and was followed by a banquet at the Brownstone Restaurant. News and pictures of that event were posted earlier. On June 21 we were pleased to have Fr. John Nehrebecki serve the Divine Liturgy and Mat Eugenia join us for the service. At the conclusion of the Divine Liturgy, Kathy Petrow gave out a bottle of wine to each of the fathers who were present at the service in honor of Father's Day. Fr. John will be serving at St. John's while Fr. Igor and his family are away. Pictures of the birthday party and Fathers' Day are in the Photo Gallery.
A note to our parishioners that the feast of Ss. Peter and Paul will be celebrated on Sunday June 28, transferred from June 29; the feast of St. Vladimir, Equal-to-the-Apostles will be celebrated on Sunday July 12, transferred from July 15; and the feast of the Prophet, St. Elias (Elijah) will be celebrated on Sunday July 19, transferred from July 20.
Enjoy your vacation but remember to visit the Orthodox Church at your destination. To search for a local parish, go to http://orthodoxyinamerica.org and enter your location in the search panel. Father Igor also reminds you to be sure that the priest knows who you are before the Divine Liturgy if you intent to receive Holy Communion. Have a wonderful and safe summer!